Once, before law school, before I grew up, but after marriage and kids, there was a brief, shining moment when I dreamed of being a baker. I even owned a book, which is the only recognized means of indicating a dream is serious.
Thanks to unbridled bursts of dedication and creativity, I had an elaborate and diverse portfolio. Cookies, breads, biscuits, cakes-I could do it all.
Baguette with goat cheese.
Some time ago, I believe it was two weeks, I promised to make a cake for a friend's birthday. I was in the zone, having created a sinful, chocolate-chip cupcake with peanut buttercup filling and peanut butter frosting just a week before for another friend's
Quadranscentennial
.
That's a mini-peanut butter cup in the middle.
Admittedly, I was rushed. I went for the box cake, which I never do, but this box cake was from a celebrated Baltimore cake-master whose reality show was only recently canceled to make room for more shows about horrible parenting.
I trusted, and that was my downfall.
This was no average cake. It had complicated instructions designed to create a zebra pattern that is just so hot with the young people right now. Because of several personality defects exacerbated by a year of law school, I followed the directions with the same gravitas and perfectionism normally reserved for defusing bombs.
So hot right now.
The cakes came out of the oven, but not out of the pans. This was unfortunate, but not fatal. While I trimmed off the round tops, I noticed with satisfaction the distinctive zebra pattern. As is the right of any baker, I tasted the trimmings. They tasted of nothing but sweetness. I knew there would be a trade-off to using a box cake. There was no sense in turning back now.
As the cakes cooled, I examined the tub of frosting. Amazingly, there was no dairy in buttercream frosting, which is why it should only be consumed straight out of the container while drunk, lest that conundrum be contemplated and the space-time continuum tear asunder.
The frosting process did not go well. With every deft swipe of my frosting-covered knife, more cake fell off like leprous zebra flesh. The globs of mystery fats overwhelmed the fragile structural integrity until the upper hemisphere just slid into the oblivion of my glass-top range.
And I followed my creation into the darkness.
There is a scene in
Gone With the Wind
where the camera pans on an infinite field of carnage. My baking troubles were not of the same magnitude, but I have the coping skills of a Southern damsel, so there was no telling me that. In my desperate attempts to save the cake, I had used every clean piece of cutlery at my disposal, throwing each aside like a combat surgeon. All in vain.
It got worse because we ate some.
That knife is just unsettling.
Defeated, I asked my Rhett to inform the party that there would be no cake and that I would, biting my fist, purchase a cake. I was informed cupcakes would be acquired without hassle and without my assistance. I retired to my bed.
After briefly deciding to skip the party, I dismissed the thought as histrionic. Instead, I made a dress out of my drapes and held my head high. Another, stronger, woman wouldn't have let this setback end her dreams. She would have scraped the congealed frosting off the stove and tried again tomorrow. That woman doesn't have 6-figures worth of debt and 100 pages to read before yesterday. That woman can bake my cakes from now on.
As God is my witness, I will never bake again.
Leave no trace...except the dishes.
______________________________________________________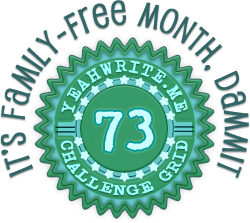 You read that right. This month, all the posts on the challenge grid are family-free. How can I resist an excuse to continue to ignore my family?