My dear friend is getting married this week. I am in the wedding, so I have been spending an inordinate amount of time with the happy couple. The problem is that they aren't happy. They hate each other. The level of contempt in their discourse astounds me. Nothing is ever easy with them. Going out to dinner becomes a toxic mess of sarcasm and embarrassing revelations. I understand this is a stressful time, but I'm extremely uncomfortable during these battles.
Drop them. Drop them like bad habits. They are not only toxic, they are infectious. They didn't start out this way. Someone infected them. Some writhing, spewing beast with two backs both facing each other.
You can't help them. This has become their normal. If you engage, they will eat your liver from the inside. Let me illustrate what will happen if you try to intervene:
Act 1, Scene 1.
(A craft store chain. Mid-spring on an unusually hot day. MARTHA and GEORGE are looking at plastic vases for centerpieces for their upcoming wedding. NICK has been carrying four bolts of green velvet fabric for the past twenty minutes because MARTHA refuses to let him get a cart since "they are almost done.")
Do you think the heart-shapes are too tacky? I don't like the idea of using square vases because the corners seem too masculine.
For the love of God, woman, nobody is going to care about your stupid centerpieces. The only thing tacky about this wedding is the cash bar.
I swear to God, shut up. I'm not asking my parents to pay so that your cheap family can get trashed and throw up all over themselves. We have been over this but clearly you haven't been listening.
(Rotating the fabric to avoid marking it with his sweating hands) Guys, we don't have to decide this now. If none of the vases seem right, we can go someplace else. There's no need to argue about it.
You're right, Nick. I'm so happy you are here. I really need someone who is rational.
What the hell is that supposed to mean?
You know exactly what it means. If it weren't for Nick, I would be doing all of this by myself. It's like I should be marrying him.
Oh, is THAT what's going on! I'll kill you, Nick.
(Shoots Nick because everyone has a gun in plays)
Look what you did! He's bleeding all over the aisle runners.
I never liked that material anyway.
(They embrace. In the distance, an ambulance siren.)
You think I'm kidding? Enjoy the weeks of physical therapy followed by the slow, painful process of rebuilding your psyche. Contempt is insidious because once it starts, it can't be stopped. All of human interaction depends on our ability to
suppress
our nature anger at the stupid behavior of the people we love. Once we acknowledge that our partner's failings are annoying, rather than endearing, we might as well sign on for a reality show and drive our dying
relationship
jalopy to hell.
That is what has happened to your friends. They were probably together for a long time before they got engaged because they made the mistake of not getting pregnant. (When will we realize that birth control is tearing the fabric of society apart?!) If they have been dating for a while, it also means they haven't been dating other people. (If they have, then scratch this whole post, because infidelity is a contempt-producing machine--another post.) Dating a variety of people is the best way to learn how to interact in a relationship. Remember that horrible boyfriend that used to end fights by throwing his cell phone at you and telling you to call your mother? Yeah, may he roast on a spit above
sulfurous
flames. The point is, you would never do that, because you know how it feels. Your friends haven't had enough of those terrible experiences, so they are working them out with each other, but one relationship cannot withstand that kind of bile storm. We were meant to distribute the sludge among multiple partners over a period of time. (Assuming a modern relationship. When courting involved hitting one's amore with a club, this didn't matter as much since women didn't get to argue or live past 30.)
I don't know if their relationship is doomed, but they will probably need a heavy dose of counseling with somebody good. To quote the indomitable Helen Buckman, "
Well, you know, honey, the odds aren't good."
In the meantime, you need to distance yourself if you want to salvage the original friendship or whichever friendship you like more.
How do you distance yourself when you signed on to be their wedding slave? By becoming exceedingly busy. Make sure you are available for the major events: showers, bachelor/-ette parties, actual wedding. Other than that, you are officially booked for any events that involve both of them. Which brings me to my final, tangential point: What has possessed couples that they now believe all wedding activities must be a team event? Equality is not redundancy. Tandem wedding planning is usually just one party demanding an audience. This practice must end. Divide the child in half. Maybe if couples didn't spend every waking moment together, it would take them longer to hate each other.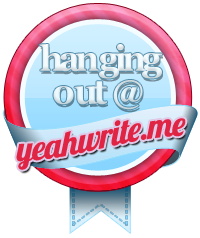 Since I'm judging this week's challenge grid, I can't compete (because of ethics and stuff), so I'm bringing back my fun persona for the hangout grid. Head over to both grids and check out the great blogs!