I shot my own turkey.
In elementary school we played a game called "Turkey." We were each given a bowling pin to guard and a handful of rubber dodgeballs were placed in strategic locations throughout the gymnasium. Since puberty hadn't set in, with its relentless pursuit of hormonal cynicism, we were all willing to believe that turkeys, like bowling pins, could be kept safe between one's legs, and muskets, like dodgeballs, were hidden behind the scooter rack.
The more adventurous students were the first to retrieve the dodgeballs and leave their pins unprotected. They had calculated that as long as they returned before anyone else had obtained a ball, their pins would be safe. Most learned a hard lesson, but a few proved fast enough to outrun their negligence. Left unchecked, this is the confidence that grows up and leaves a dryer running with no one in the house. Even at a tender age, I knew I would never harness that type of self-power.
Next were the students who waited for the balls to be thrown at them. Shifting their weight, straddling their pins, their hands partially extended towards their destiny without overreaching. The balls would come.
And the balls did come. The perfectly balanced stances crumbled into a melee of twisting and grasping. Out of this indignity occasionally there was an opportunity to take aim at the unguarded pin of a reckless player, but more often the newly-composed attacker simply threw fruitlessly at another, equally prepared guardian, continuing the chain of contortion like drunken fans doing "The Wave." The aggressive players would leave their pins to surprise unsuspecting players in quiet corners of the gym. They went on terrific rampages until someone noticed their weakness, the defenseless pin. Never had skills so transferable to Bocce ball been so instrumental in bringing down tyranny.
I envied the waiters. I was bad at waiting, short on noticing and, frankly, embarrassingly lacking in Bocce ball skills for someone with Italian heritage. I should have been eliminated immediately, but I wasn't popular enough to warrant the attention. Since I was both unable and unwilling to bring attention to myself with physical prowess, I languished in "Turkey Purgatory," waiting for the bell to toll.
Then one day I saw a guardian slip and knock over his own pin. What cruel fate to have forgone chasing after balls and whipping changeups at the knees of shrieking classmates, only to fall victim to carelessness. And yet, from this ultimate waste, I saw the key to my own deliverance. No more flop sweating while obsessively scanning in all directions like a deer in a clearing. No more ridiculous flailing like an inflatable display at a car lot. No more trying and failing. I just picked a spot in the corner, waited for the ambience to get a little hectic, then tapped my pin with the heel of my Fila high top.
Sorry little bird. We can walk to the losers' bench together. Better luck next time.
________________________________________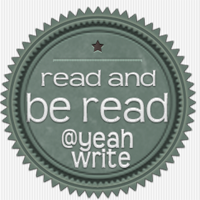 This is the start of yeah write summer. I'm looking forward to changing my usual posts and expanding my range. I can't boss people around all the time.